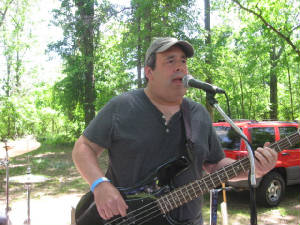 Keyboardist Joe Haley
Joe has been playing since he was 15 years old on bass guitar, influenced by Jonathan Cain of Journey and his favorite band The Eagles, he quickly picked up playing keyboards at the Andy Kucheck school of music. His past bands included, The Weeries , Meer Control and Free Drinx before starting his own original band Shadow Road from '90 - '94. Joe put playing on the back burner in 1995 to concentrate on personal matters before forming The KICKBACK Band 2006.
Lead Guitarist Joel "The Doctor" Fischer
Joel has been playing on and off for well over 35 years in bands that included: Bad Analogy '00-01, Tequila Rose '03-'04 and Sour Mash '04 -'06 before hooking up with KICKBACK. Joel's playing style has been influenced by Duane Allman, Eric Clapton and Mark Knopfler to name a few.
Lead Vocalist Dean "Dino" Martinez
Lead Guitarist John Distase
Drummer Dan Bedea
Originally from Pennsylvania, Dan made his way to New Jersey some 30 years ago, joining original bands such as Jimi Gear and S.S. Steele. where he developed a style to call his own. Influenced by the likes of Rick Derringer, Humble Pie, Montrose and Pat Travers, Dan brings with him a foundation of rock and roll with a tall order of blues.